<!img align="center" src="http://www.integrity3.lcproinc.com/TWGSS/TWGSSpicR.jpg" height="135" width="841" alt="TWGSS Words LOGOS"-->



TWGSS 50th Anniversary Celebration Reunions in Vancouver,
BC, Canada August 4-6, 2011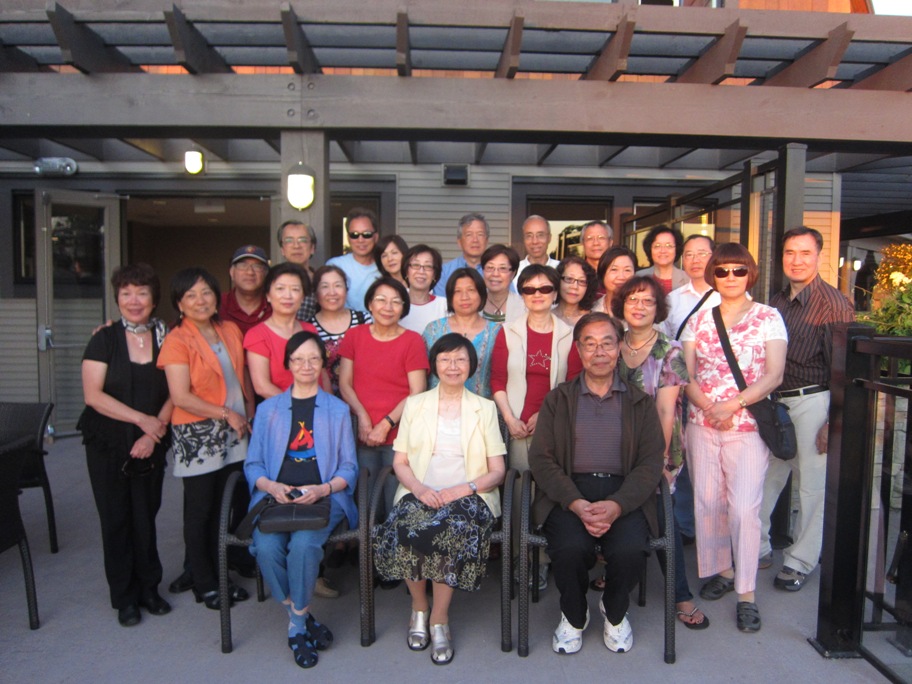 TWGSS 50th Anniversary Celebration Reunions in Vancouver, BC, Canada August 4-6 2011


The Vancouver TWGSS Golden Jubilee celebration started with a Chinese brunch at the Jade Restaurant in Richmond with local hosts of CC Ng, Rosa Yu Mei-Hung & Marianna Poon Wai-Ching for the out of town guests Alex P. Cheng and his wife Jenny from Fairfax, VA and Rosaline Chau (Tse Kin-Ling) from Toronto, Ontario. We toured briefly the Richmond Fisherman Wharf and we visited briefly CC's residence and took some lovely photos for this memorable visit. We headed for our SkyTrain Adventure. CC parked his car at the Park & Ride Bridgeport Station in Richmond and we headed to the Canada Line for the Weterfront Station where we also met May Tse and Winnie Ho Suk-Ming when touring downtown Vancouver and the Dr. Sun Yat Sen's Park in China Town. We took some beautiful photos under the unusual sunny British Columbia (BC) weather which appeared to welcome all the TWGSS visitors. After touring downtown Vancouver, we took the SeaBus to North Shore (N. Vancouver) as we all had SkyTrain DayPass. We took a tour of the shopping center and had dinner of our choices at the multi-cuisine Food Court. We had a very good time together in touring Vancouver with SkyTrain. CC Ng dropped off the luggages at Susanna's residence and the guests had a good night rest for the August 5 events. Special thanks to CC Ng, Rosa Yu and Marianna Poon for sharing memorable tour of Vancouver with SkyTrain.

Friday, August 5 is a very memorable day for TWGSS alumni. After breakfast at the Golf Club Restaurant, we [Kennedy Cheung (TWGSS '67), Thomas Cheung (TWGSS '66) & his wife Cathy, Susanna Ng & Rosaline Chau (TWGSS '67), Alex Cheng (TWGSS '66) & his wife Jenny] visited Watt Sir's residence. Then Watt Sir guided us for the tour of UBC (University of British Columbia). Right after the tour, we had a wonderful Sushi Lunch at the Japanese Restaurant in the UBC village. Andre Wong (TWGSS '66) who works in the UBC Dental School Building was able to join us for lunch. After lunch we (Watt Sir, Kennedy, Thomas & Alex) had a brief tour of the dental school guided by Andre Wong. Afterwards, Susanna guided the visitors for a brief tour of the Queen Elizabeth Park in Vancouver. It was a leisure tour prior to our scheduled TWGSS dinner at the Prince Chinese Seafood Restaurant. Among the attendees were Watt Sir, Thomas Cheung & his wife Cathy, Alex Cheng & his wife Jenny, May Tse and her husband Bill, Linda Cheung and her husband Stephen who just arrived from Seattle, Rosaline Chau, Susanna Ng and Alfred Chan (who practices Medicine in Vernon, BC). After our delicious dinner at the Prince, we headed to the residence of May and Bill Tse for Karaoke. We had a wonderful time singing some of the old songs we learned and listened when we were young. Special thanks to Bill Tse who showed us a preview of the DVDs for the TWGSS 50 Years Anniversary and the Songs for Sing Along during our Karaoke Night. We (the guests) were so absorbed in our gathering that we forgot how late it was. Susanna reminded us it's time to quit and finally we had to say good night to our wonderful hosts Mr. & Mrs. Tse.

Saturday, August 6 is another beautiful day for Vancouver. Susanna joined Alex & Jenny for breakfast with Andre Wong and his wife Carrie, Kennedy Cheung and Alfred Chan at the famous Kam Do Restaurant and Bakery in Richmond. After breakfast, we dropped by Andre's residence to mingle for another hour before we headed back to pick up Rosaline Chau for lunch at the Fisherman Wharf where we picked up some live soles. Rosaline paid for a live black cod and Kennedy paid for some live soles at the Fisherman Wharf as a token of thanks to the Vancouver alumni for hosting this reunion. Our Special thanks to Michael Ng, husband of Susanna, for getting a live black cod from a neighbouring fish shop and getting the cod and soles ready for barbecue. Then we headed to Poon Mo-Chor's residence in N. Delta. We had a great barbecue at the Club House. Attendance at the TWGSS 50 Years Reunion (28 of us) was super.

The attendees are as follow:

Watt Sir, Miss Leung and her sister Mary (3)
Poon Mo Chor and his wife Angela (2)
Out of town guests - Alex P. Cheng & his wife Jenny [Fairfax, VA], Rosaline Chau (Tse Kin-Ling) [Toronto, Ontario], Kennedy Cheung [Chico, CA], Thomas Cheung and his wife Cathy [Los Angeles, CA], Linda Cheung (Louie King-Sin) and her husband Stephen Cheung [Seattle, WA] (8)
May Tse (Young Yee-Ling) and her husband Bill Tse (2)
Winnie Ho Suk-Ming and her husband Chester Leung (2)
Ringo Young (brother of May Tse) & his wife Jenny (2)
Brenda Wong (Chu Kit-Ching)
Barbara Wong (Chan Mei-Har)
Chiu-Choi (CC) Ng
Eleanor Yuen Ka-Yu
Esther Po-Chu Wong (TWGSS '71) -sister-in-law of William Wong Sing-Yan of Toronto
Marianna Poon Wai-Ching
Mok Lai-Ying
Rosa Yu Mei-Hung and
Susanna Ng (Lee Yuk-Lin)
TWGSS alumni would like to express their sincere gratitude to Susanna Ng for organizing and coordinating most of the events for the TWGSS 50 Years Anniversary celebration in Vancouver. Special thanks to Poon Mo-Chor and his wife Angela for hosting the grand reunion at the Club House of their new residence in N. Delta. We are also grateful to May and Bill Tse for hosting the Karaoke night and for the talented production of the two TWGSS 50 Years Anniversary DVDs which all TWGSS alumni will treasure and enjoy.

On behalf of all who attended the Tour of UBC and Sushi Luncheon on Friday August 5, we would like to thank Watt Sir for his thoughtfulness and generosity. The presence of Miss Therese Leung and her sister, Mary, at the BBQ was very much appreciated.

The TWGSS 50th Anniversary Reunions in Vancouver were made possible by the enthusiastic participation of our classmates and alumni. The wonderful memories of our gatherings will stay amongst us forever. Thanks and our best wishes to you all - TWGSS teachers and alumni.

The next big challenge will be "When and where shall we meet again?"

Narrated by Alex P. Cheng
Reviewed by Susanna Ng


<!/center->

<!p align="center"><!embed width="200" height="20" src="http://www.integrity3.lcproinc.com/MP3/I have a Dream by ABBA.mp3"---> <!table cellspacing="0" cellpadding="0" border="0" width="912"-->
&copy Copyright Alex P.Cheng, LC. All rights reserved. Created August 13, 2011